张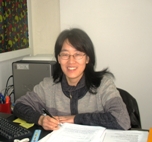 井岩
生物化学与分子生物学专业:博士生导师/硕士生导师
2000年在以色列魏兹曼科学研究所获博士学位,2000-2001在美国明尼苏达大学化学系做博士后,2001-2003 年在美国明尼苏达大学生物化学系做博士后,随后在美国明尼苏达大学生物化学系任研究员, 2006年回国加盟华东理工大学药学院,现任华东理工大学药学院药物科学系教授。研究成果先后在在国际学术刊物J. Am. Chem. Soc., J. Biol. Chem., Chem. Comm., Biochemistry, J. Phys. Chem. Langmuir等)上发表。主持了三项国家自然科学基金、上海市科委人才计划,生物工程反应器重点实验室项目, 国际合作项目等科研项目。
近年来主要从事化学生物学方面的研究,具体包括含金属离子的酶以及金属离子与生物大分子的相互作用及其应用。
代表性论文:
1.Ren, Hongliu; Wang, Chong; Zhang, Jiali; Zhou, Xuejiao; Xu, Dafeng; Zheng, Jing; Guo, Shouwu; Zhang, Jingyan. DNA Cleavage System of Nanosized Graphene Oxide Sheets and Copper Ions. ACS Nano 2010, 4, 7169-7174.
2. Feng Zhang, Bin Zheng, Jiali Zhang, Xuelei Huang, Hui Liu, Shouwu Guo, Jingyan Zhang* Horseradish Peroxidase Immobilized on Graphene Oxide: Physical Properties and Applications in Phenolic Compound Removal.
J. Phys. Chem. C, 2010, 114, 8469–8473
3. Jiali Zhang, Feng Zhang, Haijun Yang, Xuelei Huang, Hui Liu, Jingyan Zhang* Shouwu Guo, Graphene Oxide as a Matrix for Enzyme Immobilization.
Langmuir 2010, 26, 6083–6085.
4. Rong Li, Fuqiang Huang, Xiaojun Jiang, Minyuan Liu, Yanying Song, Hui Liu,Jingyan Zhang* Catalase-like Catalytic Reaction of the Dinuclear Manganese-salen Complex
J. Coord. Chem. 2010, 63,1611-1618
5. Guanke Zuo, Xiaojun Jiang, Hui Liu,Jingyan Zhang*
A Novel Urinary Oxalate Determination Method via a Catalase Model Compound with Oxalate Oxidase
Analytical Methods 2010, 2, 254–258
6. Jiali Zhang, Haijun Yang, Guangxia Shen, Ping Cheng, Jingyan Zhang* Shouwu Guo, Reduction of graphene oxide via L-ascorbic acid
Chem. Commun., 2010, 46, 1112–1114
7. Hui Liu, Jinlei Tian, Yingying Kou, Jingyan Zhang, Li Feng, Dongdong Li, Wen Gu, Xin Liu, Daizheng Liao, Peng Cheng, Joan Ribas and Shiping Yan, Synthesis, structures and magnetic properties of polynuclear mixed-valence MnIIMnIII complexes containing 3-(2-phenol)-5-(pyridin-2-yl)-1,2,4-triazole ligand
Dalton Trans., 2009, 10511–10517
8. Xiaojun Jiang, Hui Liu, Bing Zheng and Jingyan Zhang, Coordination modes of bridge carboxylates in dinuclear manganese compounds determine their catalase-like activities
Dalton Trans., 2009, 8714–8723.
9. Jing Hou, Guanke Zuo, Guangxia Shen, He Guo, Hui Liu, Ping Cheng, Jingyan Zhang*, Shouwu Guo
Hollow Sodium Tungsten Bronze (Na0.15WO3) Nanospheres: Preparation, Characterization, and Their Adsorption Properties
Nanoscale Res. Lett. 2009, 4, 1241–1246.
10. Jingyan Zhang, John Lipscomb.
Mapping the binding conformation of B component to hydroxylase in soluble methane monooxygenase using Spin Labeling EPR spectroscopy
Biochemistry 2006, 45,2913-2926
11. Jingyan Zhang, John Lipscomb.
Role of the C-terminal Region of the B Component of Methylosinus trichosporium OB3b Methane Monooxygenase in the Regulation of Oxygen Activation Biochemistry 2006, 45, 1459-1469
12. Jingyan Zhang, Hui Zheng, Stecphen Groce, John Lipscomb
Basis for specificity in methane monooxygenase and related non-hemeiron-containing biological oxidation catalysts
J. Mol. Cat. A: Chemical 2006, 251, 54-65.
13. Aimin Liu, Yi Jin, Jingyan Zhang, Brain Brazeau, John Lipscomb
Substrate radical intermidiates in soluable methane monooxygenase
Biochem. Biophy. Res. Commun. 2005, 338, 254-261
14. Patzlaff, J. S.; Zhang, J.; Brooker, R. J.; Barry, B. A.
An Isotope-edited FT-IR Study of a Symporter, the Lactose Permease.
Biochemistry 2002, 41, 7366-7372,
15. Zhang, J.; Patzlaff, J; Brooker, RJ, et al.
FT-IR study of the isotope labelled lactose permease of E-coli
Biophysical Journal 2002, 82, 532A.
16. DiDonato, M.; Zhang, J.; Que, L. Jr.; and Sarkar, B.
Zinc Binding to the N-Terminal Domain of the Wilson Disease Copper-Transporting ATPase: Implications for in vivo Metal Ion Mediated Regulation of ATPase Activity.
J. Biol. Chem. 2002, 277, 13409.
17. Zhang, J.; Carl, P. J.; Zimmerman, H.; Goldfarb, D.
Investigation of the formation of MCM-41 by Electron Spin Echo Envelope Modulation spectroscopy.
J. Phys. Chem. B 2002, 106, 5382.
18. Zhang, J.; Goldfarb, D.
In-situ investigation of the Formation mechanism of mesoporous materials
via the dynamics and ordering of spin-probes-pH and Si/surfactant effect.
Microporous Mesoporous Mater. 2001, 48, 143..
19. Zhang, J.; Goldfarb, D.
Manganese incorporation into the MCM-41 under acidic conditions and studies by high field EPR and ENDOR techniques
J. Am. Chem. Soc. 2000, 122, 7034..
20. Zhang, J.; Luz, Z.; Goldfarb, D.
Evolution of the rotational diffusion rates and order parameters during the formation of MCM-41
J. Phys. Chem. B 2000,104, 279.
通讯地址:上海市梅陇路130号,实验十八楼,200237
电话:021-64253846
电子邮件:jyzhang@ecust.edu.cn